Everyone Counts for Service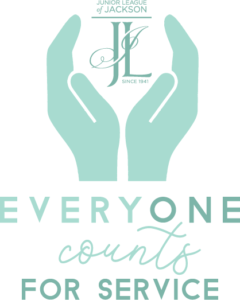 The Junior League of Jackson joins the nation in providing opportunities to serve as a part of the Martin Luther King, Jr Day of Service on January 18, 2021. Dr. King recognized the power of service. He famously said, "Everyone can be great because everybody can serve."
JLJ hosts "Everyone Counts for Service" which provides remote/virtual opportunities to support our community partners during this time of the COVID-19 pandemic. Everyone can participate in this Day of Service.
We invite you to join in with JLJ and our partners to serve and meet our community needs. Below you will find donation links to our community partners who, like the Junior League of Jackson, serve our community and meet real needs in real time.
---
Since 1936, the Boys & Girls Clubs of Central Mississippi (BGCCM) have provided after-school and summer youth development programs for children in the Jackson Metro Area.
Canopy Children's Solutions reaches each of Mississippi's 82 counties in order to provide children with life-changing solutions for autism, behavioral and mental health issues, adoption and foster care, and more.
The Center for the Advancement of Youth (CAY) offers comprehensive, coordinated care across disciplines for children with behavioral and developmental issues throughout Mississippi. Its mission is to provide resources to fully support children and their families and to provide the care they deserve.
Children's of Mississippi, with the state's only children's hospital plus clinics statewide, provides pediatric care for babies, children and young adults.
The ISJL Department of Community Engagement works in partnership with a broad network of service-based organizations to address a range of social issues that affect all people in the Southern region. Through this department, the ISJL strengthens and enhances a proud tradition of pursuing justice in our communities, a defining and vital element of many Southern Jewish experiences.
HIS Heart is a ministry to the children, youth, and families of the West Park neighborhoods of Jackson, MS.
All children need a voice. When facing difficulties with speech and language, they deserve professional services designed to help them communicate effectively. At Magnolia Speech School, students are given a curriculum tailored to their specific needs.
The McClean Fletcher Center, not for profit, a service of Hospice Ministries, is the first and only grief support program in Mississippi offering a supportive, nurturing environment to grieving children and teens, ages 4-18, after the loss of a loved one or special person in their lives.
Methodist Children's Homes seeks to bring restoration to children and youth who have been neglected or abused.
All of the ministries of Mission First seek to meet physical, practical needs of people, and in so doing, to make the most of this opportunity for relationship, conversation, and sharing the love and truth of Christ.
Your gift is an investment not only in Mississippi's only state-wide children's museum, but also is an investment in our state's most valuable natural resource—our children!
In light of the current pandemic and to keep foods on the shelves of grocery stores, Mississippi Food Network is encouraging its partners to host a virtual food drive. Visit our Junior League of Jackson Virtual Food Drive and donate food items directly to Mississippi Food Network. Your gift will provide nutritious meals to vulnerable children, families, and seniors in our community.
Operation Shoestring provides year-round academic, social and emotional support to children in central Jackson from pre-K – 12th grade, while supporting and providing resources to their families.
Stewpot Community Services provides thousands of men, women and children with hot meals, groceries, clothing, shelter, childcare, mentoring and other programs to nurture them and help them get back on their feet.
The Little Light House is a tuition-free Developmental Center that for over three decades has been making a difference in the lives of hundreds of children with special needs.