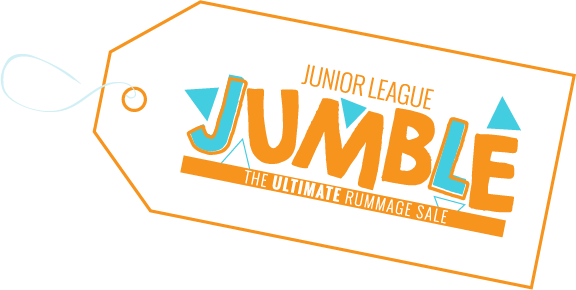 The Junior League Jumble is the ULTIMATE rummage sale! It's your opportunity to get a steal of a deal on great furniture, home décor, and other household items. It's also a way to help others as your patronage supports the mission of the Junior League of Jackson, including 30 community projects in Jackson.

Our third annual Junior League Jumble will be held February 9-11, 2017, at 415 Highway 49 South in Richland, Mississippi. Many thanks to Connie and Tom Kossen and Taylor Power Systems for donating the use of this facility, which is located on the west frontage road between the Kenworth and Empire buildings.

The fabulous bargains begin with our Reveal Party on Thursday, February 9th, when shoppers get early access to the best merchandise, followed by two days of shopping deals! This year will feature The Luxury Place, including brand new items at incredible prices, and a bargain Everything's a Dollar area! Follow us on Facebook and Instagram for the latest Jumble news!

Junior League Jumble 2017 events include:

Reveal Party
Thursday, February 9          7:00 p.m. – 10:00 p.m.          $40

Enjoy food, beverages and a fun night out in addition to being the first to shop Jumble 2017! Merchandise prices will be doubled at this event. Reveal Party tickets allow entrance to all Jumble 2017 events.

Peek & Purchase
Friday, February 10              7:00 a.m. – 12:00 p.m.            $10

Receive early access to the best merchandise before general shopping hours begin! Merchandise is at regular, ticketed prices.

General Admission
Friday, February 10               12:00 p.m. – 3:00 p.m.             $3
Saturday, February 11            7:00 a.m. – 12:00 p.m.             $3*

Snag some great finds! Merchandise is at regular, ticketed prices.
*Saturday tickets are ONLY AVAILABLE FOR PURCHASE AT THE DOOR.

Click here to purchase tickets to the Junior League Jumble!  All tickets are electronic. Once you place an order, you will receive a confirmation e-mail with a link to print your tickets.

Here are some guidelines to remember so that everyone has a fabulous shopping experience at the Junior League Jumble!
Only two-wheel shopping carts are allowed
No strollers
No running
No shoving
No fighting
Any disorderly individuals will be asked to leave immediately
All sales are final
All items are sold "as is"
No refunds will be given
Many thanks to our 2017 Junior League Jumble Corporate Sponsors!