Women's Leadership Summit

Women's Leadership Summit
Clarifying Your Vision
The Women's Leadership Summit, presented by the Junior League of Jackson, is an all-day event designed to provide an empowering personal and professional experience for women seeking to renew, refine, or re-envision their lives. It will include a keynote luncheon by Kelly Wynne Ferguson, founder and CEO of Kelly Wynne, LLC, and other dynamic presentations and networking opportunities.
Friday, April 24, 2020
The Westin Jackson
407 South Congress Street
Jackson, MS 39201
$50.00 per person
Includes Light Breakfast & Lunch
A limited number of scholarships are available for this event. For more information on how to apply, contact the Junior League of Jackson at 601-948-2357 or 
WLA@jljackson.org
.
---
Schedule of Events
8:30—9:00 AM REGISTRATION/BREAKFAST
9:00—9:15 AM WELCOME
LaKeysha Isaac
President, Junior League of Jackson
9:15—9:45 AM SPEAKER
Dr. Ebony Lumumba
First Lady, City of Jackson
9:45—10:00 AM BREAK
10:00—11:00 AM "RE-ENVISION—Re-entering or Changing Direction in the Workplace."
Moderator
Camille Young
Principal & Director, Cornerstone Government Affairs
Panelists
Bobbie Ware
CEO, Mississippi Baptist Medical Center
Donna Ritchey
Partner and Chief Strategy Officer, GodwinGroup
Dr. Carmen Walters
President, Tougaloo College
11:00—11:30 AM BREAK
11:30 AM—1:00 PM KEYNOTE ADDRESS/LUNCH
Kelly Wynne Ferguson
Founder and CEO, Kelly Wynne, LLC
1:00—1:30 PM BREAK

1:30—2:30 PM "REFINE—Forging Your Professional and Personal Path."

2:30—2:45 PM BREAK
2:45—3:45 PM "
RESTORE—Focusing on Mental and Physical 
Health
."
Moderator
Dr. Lori Marshall
Pain Management, Baptist Health Systems
Panelists
Dr. Megan Sones Clapton
Licensed Professional Counselor and Founder, Mindful Therapy
Dr. Michelle Owens
OBGYN, The University of Mississippi Medical Center
Dr. Puja Craddock
Pediatrician, 

The University of Mississippi Medical Center
3:45 PM CLOSING
STAY
 TUNED FOR MORE EXCITING SPEAKER ANNOUNCEMENTS!
Junior League of Jackson reserves the right to change, modify, add or remove speakers or event content at any time and without notice.
---
About the Keynote Speaker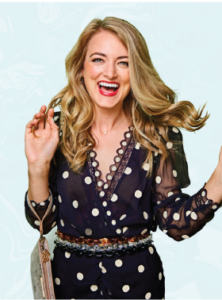 Kelly Wynne Ferguson, 
founder and owner of Kelly Wynne, LLC
A graduate of University of Mississippi, Kelly began her professional career in public relations, but her lifelong dream and passion for design stayed at the forefront of her mind. Her career mentor gave her the momentum to take the next step in turning her vision into a reality and in 2017, Kelly Wynne launched one of the most recognizable high-end clear bags on the market. With the announcement of the new NCAA and NFL clear bag policy and so many football loving customers, Kelly was determined to design a clear bag that does not cramp your style! One year later, Nordstrom selected Kelly Wynne as their premier clear bag line to sell on their website.Kelly's passion is to encourage and support other women to have the confidence to do what they love and love what they do! A big factor in Kelly's success has been from the empowerment she has gained from other "boss ladies" in her life. She truly believes that empowered women empower women which is why Kelly is vulnerable in sharing her failures and successes. Anyone can be a boss lady if you ask Kelly; they may just need a little bit of push.
For more information, contact Women's Leadership and Advocacy Series Chair Leanne Stamper at WLA@jljackson.org.