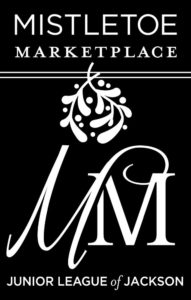 Mistletoe Marketplace 2019 will be held November 6-9, 2019, at the Mississippi Trade Mart in Jackson, Mississippi.
Tickets for special events and general admission will go on sale September 1, 2019, and will be available through the Mistletoe Marketplace website.  To learn more about Mistletoe Marketplace, visit www.mistletoemarketplace.com.
FOR MERCHANTS
The merchant application period for Mistletoe Marketplace 2019 is now closed.
In order to apply as a merchant for Mistletoe Marketplace 2020, you must have a Merchant Profile. If you are new to the merchant application process, please click HERE to create your merchant profile. When the application for Mistletoe Marketplace 2020 goes live, individuals with a merchant profile will be sent a notification via email. If you have already created a merchant profile and have forgotten your username and password, please call 601-948-2357 for assistance.
For questions, please email mistletoemerchants@jljackson.org.
You must have a Merchant Profile to apply for Mistletoe Marketplace.

---
Stay connected with Mistletoe Marketplace!